Everyone knows by now that
J.D. Salinger died not too long ago
. The only book that anyone's ever read by him is
The Catcher in the Rye
. I read it, but not when I was supposed to - I was never assigned it in high school or anything. I read it when I was maybe 18 or so, without being prompted by a teacher. Maybe that's why I didn't like it that much.
If you've never read it, you can read it
here
 - if you're the type that can read whole books online, I suppose. Interesting about books with a very distinct style, like this one - when I first looked at that site and read the first page, I was even more turned off than I was when I first read the book. But after a few pages I felt myself being hooked. I suppose that's what makes a good writer?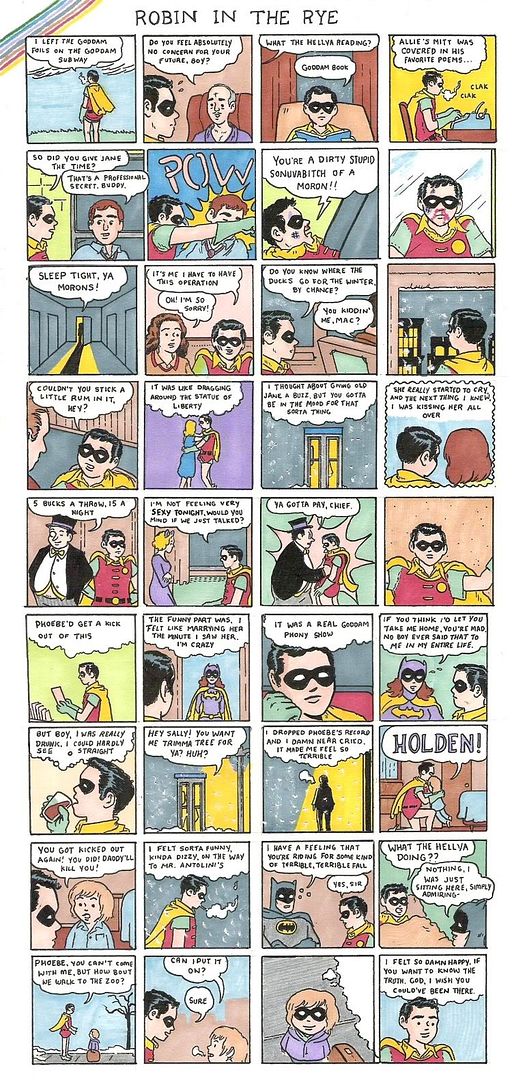 I saw the above comic on
Andrew Lorenzi
's comic blog. I'm not sure if I "get" what he's trying to say, comparing Robin and Holden in this way. I wonder what it was like growing up as a kid in the city during the golden age of comic books, and feeling like you connected with them, maybe because you didn't have television or movies so accessible. 
Makes me wonder, as someone who found comics later in life - did kids growing up reading Batman connect with Batman, or did they connect with Robin? Why did all of those old comic book superheroes have kid sidekicks? Reminds me of
Kavalier & Clay
and how Clay was accused of corrupting kids' minds with the "homosexual" subtext of his comic book creations.
I remember not really liking Catcher until the end, and I think that's because I knew right away that Phoebe was my favorite character. I think she, unlike Holden, isn't a phony. I haven't read the book in a while, so I don't remember why I liked her so much. But I remembered thinking, man if Phoebe was my age she'd be the kind of girl I'd want to date. Apparently she's a big deal, I didn't remember thinking about it much before.