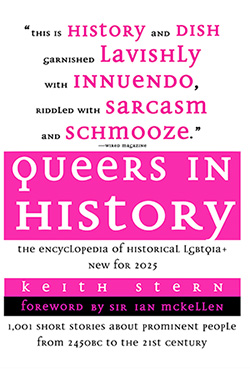 The talk was interesting, especially because instead of doing a traditional reading, he performed his "one man show," which was "rough," in his words, but pretty funny and interesting. Did you know that Abraham Lincoln was probably gay? Did you know (from
http://www.queersinhistory.com/facts.htm
):
Abraham Lincoln slept with his bodyguard in the White House when Mrs. Lincoln was away?
Joan Crawford and Marilyn Monroe had a one-night-stand?
Leonardo da Vinci was imprisoned twice for same-sex affairs?
Sir Francis Bacon's mother complained about him sleeping with the male servants?
The founder of Shinto Buddhism also founded a tradition of male-male love in Japan?
Angelina Jolie wanted to marry her "Firefox" co-star Jenny Shimizu?
Two ancient Egyptian men shared a tomb as husband and wife?
Lawrence of Arabia dedicated his life's work to a young male lover?
The wife of one US president moved her girlfriend into the White House, and another US President shared his White House bed with the male chief of his security detail?
An heroic soldier in the US Revolution was actually a woman in disguise, who "married" another woman after her service in the Continental Army?
One of the greatest male American athletes of all time was arrested twice for same-sex indiscretions?
In 1886, when US officials asked an Indian tribe to send "their best woman" to visit Washington, DC, the tribe chose to send a man in a dress?
"Facts" is a somewhat onerous title for that page, because most of these "facts" are conjecture based on circumstantial evidence (very few of the "queers in history" actually "came out"). But the circumstantial evidence is quite compelling, I must say. I haven't read the book yet but I want to after going to the reading.
The interesting thing for me was, though, after the reading, as I was getting back on my bike to go home, I was approached by a dude who had also been in attendance. He chatted me up for an awkward few moments - awkward because I was pretty sure immediately that he was hitting on me.
Afterward I wondered why it was so awkward. Being perceived as gay is nothing new for me. Rumors have floated around me about it for years, sometimes explicit, sometimes less so. I'm a firm opponent of the idea of heterosexuality - I think that every human exists, sexually, on a continuum from 100% heterosexual or homosexual (minority) to 50% either way (bisexual). Here's
Kinsey's graph
:
I fall on the side of the spectrum where I'm mostly heterosexual (i.e. I'm in, and have only been in, heterosexual relationships, and prefer them) but am not 100% against a homosexual relationship (would I ever pursue one? Given different circumstances, possibly, but I am in love with and plan to marry my current female partner). So according to Kinsey, I would be most likely a 1, maybe a 2. I think most people fall into the 1-3 range. I saw a bell curve once, but I couldn't find it in a quick Google search.
So I hope that the awkwardness was because it's always awkward being hit on when you're already in a relationship (and 100% not attracted to the hitter-on-er). I don't have anything against being hit on by a guy, intellectually. I suppose it's just some work I still have to do to extricate myself from the lasting effects of the heterosexism I've been fed socially since birth.
It got me thinking, though, about how difficult dating must be for those seeking same-sex relationships, especially when at present the issue is so politically charged. Most people can generally assume that when they approach a member of the opposite sex that they are "straight." Unless you're at a "gay bar" or other similarly-themed event or gathering place, gay people don't really have this luxury. And "gaydar" is a sham! Or, well, maybe it's not but I'm proof that someone you may think is gay likely isn't. The androgynization (is that a word?) of male fashion hasn't helped, I assume. It's always a guessing game.
Remember when Prop 8 was terrorizing us all, and Colbert did a great few shows about all of the fearmongering. I remember this great Colbert Report clip where Colbert mistakenly assumes an audience member is gay. Whoops, he's just a hipster! I wonder if it's harder to use gaydar at the present time (when mainstream fashion is moving further and further toward androgyny).
But, of course, I write from a male perspective. I wonder if it's similar for women. I wonder if straight male allies overplay the fact that, socially, lesbianism/female bisexuality is more acceptable than male homosexuality. Is it just as hard for girls? I am friends with a few gay guys but I don't think any gay women. Hmm... maybe I do know them but just don't know it?
What if, one day, homosexual relationships were so accepted culturally that you could just wear a nice little nametag or t-shirt saying "I'm gay!" and it would help take the guesswork out for your potential romantic partners, but it wouldn't have the negative societal consequences? Kinda like
this shirt
:
Or there was no such thing as being "in the closet" because being gay was OK? Well, maybe let's work on the marriage thing first, right?
I was also thinking about how, when marriage isn't an option for you, how does that color your relationships? Are you more or less likely to engage in "casual" dating behavior since "legally" you can't have a "legitimate" long-term relationship? What does
this post
look like when you read it through the lens of homosexual relationships? Or are we all conditioned to see long-term monogamous relationships as the ideal? No idea, folks. Gay readers, I need your help to understand you and your struggle better so that I can better work in solidarity with you.
Did you know Abe Lincoln was gay? Are you upset/inspired?
Do u think sexuality is a spectrum? Or is everyone 100% gay or straight and those not are kidding themselves?
Or is everyone 100% straight but some "choose" a gay "lifestyle"?
Have u (straight folks) been hit on by someone of the same sex? Was it awkward? Why?
Have u (gay folks) had trouble dating? Is it not that bad? Or is it worse?
Is it harder/easier for gay women to date?
Would having all gay folks be "obviously out" (like with a nametag) make things better or worse?
What about in a different cultural environment?
Do gay folks still think about marriage / monogamy like straight folks do?